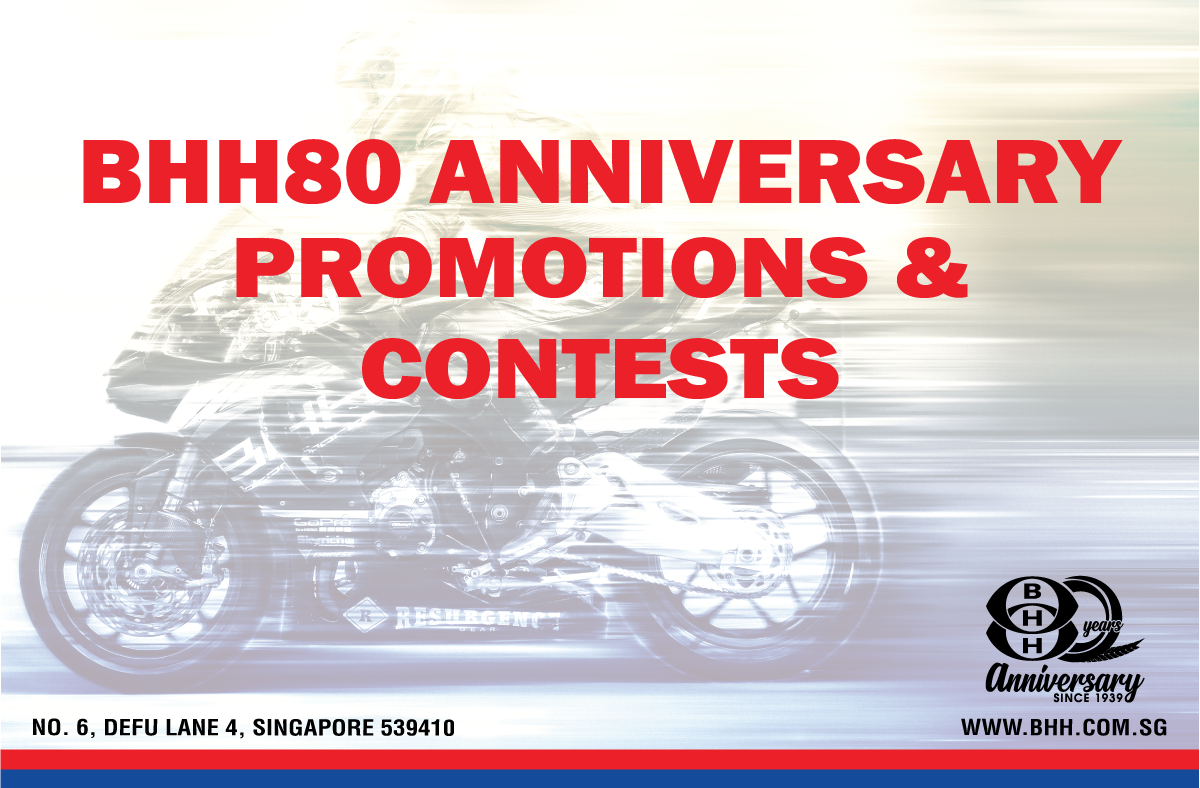 2019 marks the 80th anniversary (1939 – 2019) for Ban Hock Hin Co., Pte Ltd. We are delighted to announce a series of special promotions and contests lined up for the whole year!
Ban Hock Hin BHH80 Social Media Contest Details
To entitle the BHH 10% discount voucher set, one can follow the steps
1. Follow our BHH Facebook (www.facebook.com/bhhsg) and Instagram account (bhhmotorsports)
2. Take a selfie at Ban Hock Hin, from the 80th Anniversary photo opportunity backdrop which is located at No 6 gate.
3. Upload your selfie to Instagram and/or Facebook, assign hashtag #ilovebhh80.
4. Get 8 or more likes from your postings and you will be eligible for the discount booklet
5. Show us your postings and likes, register with our counter staff and collect your discount voucher set at BHH.
6. Invite your friends and family to join!
Quarterly winners with $80 vouchers to be won!
1. Each eligible selfie posts will automatically be entered into our quarterly draw for a chance to win $80 BHH vouchers.
2. Mainly based on most likes, 10 winners will be selected every quarterly. Only winners will be notified via the contact number they provided during the collection of the discount booklet.
Finale sole winner of $800 cash!
1. All eligible entries including the $80 BHH voucher winners will go further for a chance to win $800 in cash from the final tier of the contest that will happen in Oct 2019,
2. A grand winner with the most likes in either his/her facebook or instagram posting of the BHH80 backdrop will get to win $800 in cash and BHH memobrilias.
3. Winner will have 2 seats reserved for our BHH year-end Annual D&D to attend the prize giving ceremony
Win a brand new Yamaha Aerox!
1. From now till 31st Oct 2019. Spend $100 in a single receipt and you will be qualified for the lucky draw for a Yamaha Aerox 155. (Machine only)
2. Draw will be conducted in October 2019.
3. Winner will be notified by call by the contact number provided at the point of Sales.
4. Winner will have 2 seats reserved for our BHH year-end Annual D&D to attend the prize giving ceremony on 22 Nov 2019 @ SICC.